1986 Valley Forge International Convention
1986 Valley Forge Sons Convention interviews conducted by: Steve Wichrowski, Jr., Grand Sheik, Air Raid Wardens Tent – Mike David, Vice Sheik, From Soup To Nuts Tent – Guido Cipriani, Grand Sheik, From Soup To Nuts Tent.
This release is dedicated to the memory of Guido Cipriani.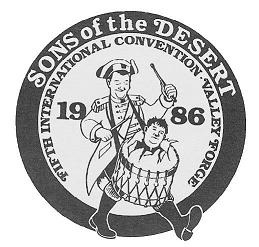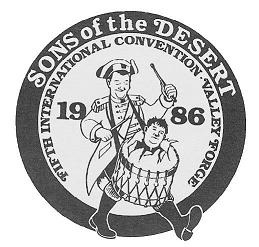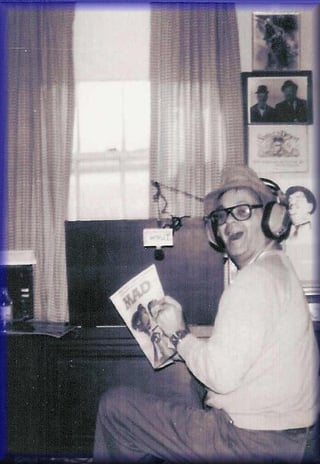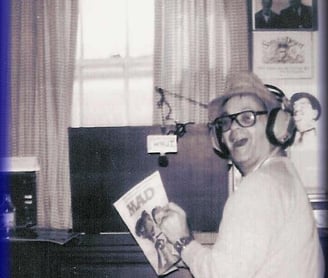 Track 1: Roger Gordon, Grand Sheik of host Two Tars Tent, welcomes all; Hal Stanton, Grand Sheik of Night Owls Tent, leads the "Sons of the Desert" song; Animation voice artist and actress Mae Questel sings at the opening night banquet; Steve Wichrowski interviews a Norwegian Son.
Track 2: Mike David talks with Hal Roach Studio construction and special effects employee Thomas Benton Roberts in the first of a two part interview. Mr. Roberts discusses props he built and his appearance in "Two Tars"; also, the nails used in "The Finishing Touch" and bees on the set of "Battle of the Century". (In his later years Mr. Roberts furnished boats and props to several studios including MGM, Fox and Universal.)
Track 3: Felix Knight, who played the role of Tom-Tom in 1934's "Babes in Toyland", sings the title song and is joined unexpectedly by another member of that films cast; Interview with Felix Knight; Towed in a Hole Tent interview; Jack McCabe announces his engagement to Rosina Lawrence.
Track 4: Laurel and Hardy and Our Gang actress Rosina Lawrence (our Mary Roberts from "Way Out West"), talks about her career and Stan and Ollie's preparations for scenes; Comments from the Exhausted Ruler Jack McCabe.
Track 5: Tony and Lois Laurel Hawes discuss L&H on TV, colourization and the police car from "Midnight Patrol"; Brief remarks from Big Business Tent; David Oyston of the UK's County Hospital Tent and Graham McKenna's of the Laughing Gravy Tent comment on the convention.
Track 6: Venice Lloyd, wife of L&H cameraman Art Lloyd, reminisces about her brief career, Anita Garvin and Sons' meetings in California; Guido Cipriani interviews renowned Grand Sheik Bill Cubin about his L&H Museum in Ulverston.
Track 7: Dwain Smith of the Founding Tent in New York introduces the Detroit Dancing Cuckoos during the Parade of Tents; The UK's beloved Happy Harry Ingle enthuses over seeing "Liberty" on the big screen and singing along with other Sons; Joan Robertson discusses the UK Convention of 1984.
Track 8: Interview with Grand and Vice Sheiks of England's new Dirty Work Tent; Felix Knight sings the "Sleep" song from "Babes in Toyland"
Track 9: Dorothy DeBorba, "Echo" in the Our Gang comedies, speaks about Stan and Ollie, other famous celebrities and the Our Gang Reunion of 1985.
Track 10: Humorous interview with Florida Grand Sheik Ron Young during the New York portion of the convention; Master of Ceremonies Dwain Smith interrupted onstage during the Parade of Tents; California Son Bob Satterfield discusses his popular "Pratfall" issue highlighting Laurel and Hardy film sites.
Track 11: Film archivist Michael Agee gives a fascinating and detailed account of his Hal Roach Studio film preservation efforts; L&H author and Grand Sheik Scott MacGillivray onstage with the Boston Brats during the Parade of Tents.
Track 12: Virginia Karns Patterson, Mother Goose in 1934's "Babes in Toyland", explains how she was found by California Sons and discusses her work in other films including an audition with Charley Chase; USA Night Owls Tent onstage with Grand Sheik Hal Stanton.
Track 13: Jerry Tucker Schatz. The "…mostly nasty little kid" in the Our Gang comedies, also recalls his work with other celebrities including Cary Grant and Bing Crosby; Felix Knight sings his favourite song "Castles in Spain" from "Babes in Toyland"; interview with Michael Agee who discusses concerns regarding the preservation of Laurel and Hardy films.
Track 14: Mike David conducts a lively interview in the Sheraton Valley Forge lobby with Mae Questel, actress and voice of Olive Oyl, Betty Boop and many other animation characters. Miss Questel also discusses her role in "Mr Bug Goes to Town" (1941) and the canine origin of Betty Boop. (Portions of this interview appeared on the audio bonus features of Mackinac Media's DVD "Popeye: Original Classics From Fleischer Studio".)
Track 15: Toasts and tributes from host Tent (Two Tars); Interview with Laurel and Hardy newsletter publisher Leo Brooks; Brief excerpt of Half-assed Dignity onstage.
Track 16: Intra Tent Journal editor Rick Greene comments on the Nutty Nut News Network Show; Grand Sheik Steve Wichrowski onstage during the Parade of Tents for the incarcerated Pardon Us Tent members; Bill Cubin in a poolside discussion concerning UK conventions, with a humorous ending.
Track 17: Part 2 of the in-depth interview with Thomas Benton Roberts who describes his technical work and special effects behind the scenes on Our Gang films including roller skates for Sam the "drunken" ostrich in "Barnum and Ringling, Inc." (1928); Sadly, Mr Roberts passed away nine months after this talk.
Track 18: Roger Gordon, Grand Sheik of host Two Tars Tent, breathes a sigh of relief as the convention comes to a successful climax.
Track 19: BONUS TRACK "Mae Questel- Putting the Boop in Betty" (Produced and narrated by Drew Smith): Brief and affectionate profile of one of Hollywood's greatest voice artists. Miss Questel was a favourite guest at many USA Sons of the Desert meetings in the 1980s.
Track 20: A marching band plays The Cuckoo Song and Bill Cubin leads the cheers for Stan and Ollie.