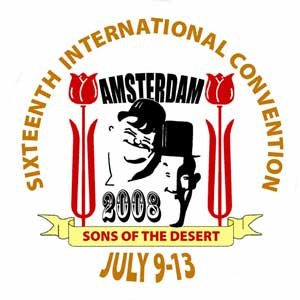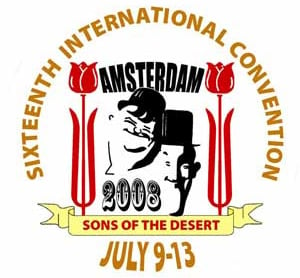 2008 Sons of the Desert International Convention
Interviews Conducted by Steve Wichrowski, Jr.
Audio editing and remastering by Mike David.
This audio is dedicated to the memory of our friend Mr John Bogie
The Nutty Nut News Network would like to thank all those individuals who gave their time to say a few words for the show and in doing so have helped preserve the friendly atmosphere of this event for future generations. Thank You!
Part 1 - Our Roving Reporter Steve Wichrowski, Jr., talks with Eric Woods of the UK's Come Clean Tent who is in charge of the financial appeals for the Laurel and Hardy statues set to be put in place in Ulverston. Eric describes the statues and gives information on how to donate to the Statue Fund. Next, Steve talks with Marion Graves, daughter of renowned Grand Sheik Bill Cubin, who initiated the Statue Fund and also founded the Laurel and Hardy Museum in Ulverston. Marion discusses plans for the statues' unveiling and provides information concerning the new location for the museum.
Part 2 - One of the Sons who has attended every convention, Bruce Church of the longstanding Boston Brats Tent, tells Steve how he came to join the Brats. A Laurel and Hardy musical interlude on an organ outside the convention with some background information from the organ player. John Bogie of Scotland's Call of the Cuckoos Tent talks about attending meetings at the famous Panopticon Theater. Intra Tent Journal editor Roger Gordon discusses worldwide subscriptions to the ITJ and several bids, one with great potential, for upcoming conventions.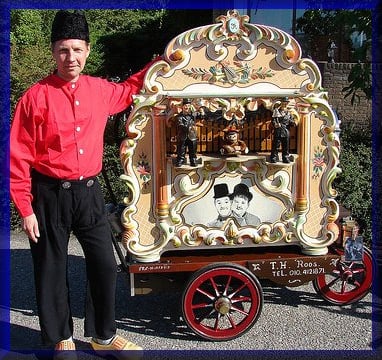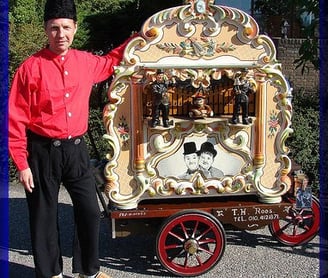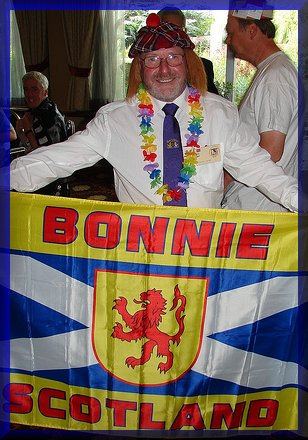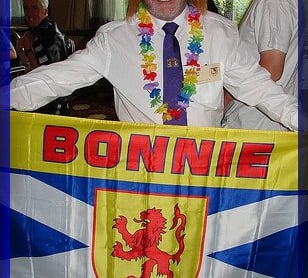 John Bogie of The Call of the Cuckoos Tent
Part 3 - An enjoyable talk with Laurel and Hardy author and editor of the popular publication Bowler Dessert, Willie McIntyre, who enthuses about meetings held at the theater where Stan Laurel made his stage debut. He also describes how he puts together his magazine which is now in its 32nd year of publication. After a humorous encounter with the winners of the Trivia Quiz, Steve talks with London's Live Ghost Tent's Del Kempster who evaluates possibilities for new books on Stan Laurel. Mandi Ullah of Birmingham, England, belts out an enthusiastic version of "Lovey Dovey Man" from the film "Way Out West". Popular Dutch singer Rene Riva tells Steve about the progress of his career, the joy of meeting Sons at the convention and his guest role in a Dutch movie.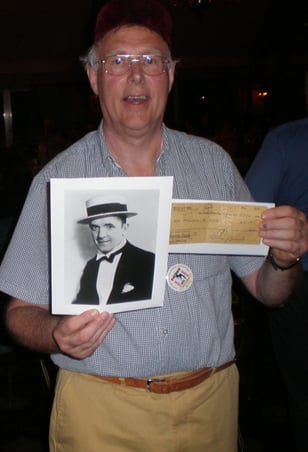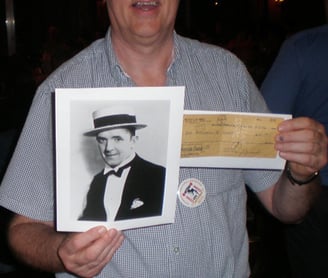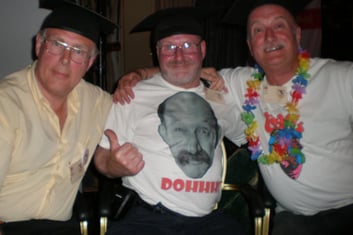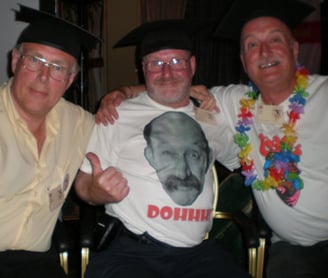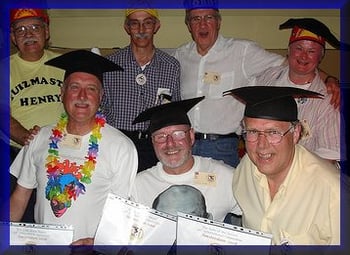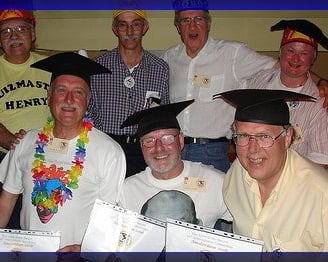 Above: Willie winning the top prize in the raffle: a check signed by Stan, very kindly donated by Lois Laurel. Well done Willie!
Being in the winning team for Scotland for the quiz (left to right: Willie McIntyre, John Bogie and Dougie Brown). Three minds without a single thought!
Part 4 - Noted Laurel and Hardy author and historian A J Marriot talks at length about his new book on Charlie Chaplin, presents evidence that Laurel and Hardy once recorded at the famed Abbey Road Studio and later makes a startling revelation about a relatively recent sighting of the long sought after Laurel and Hardy short "Hats Off".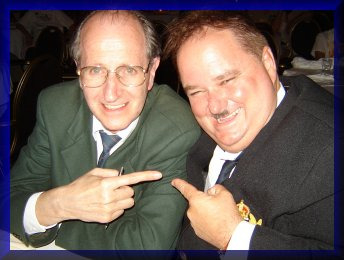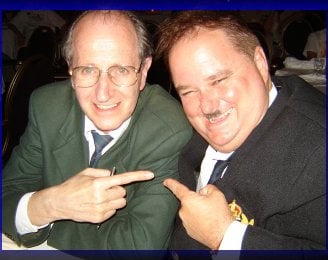 A.J. Marriot with Oliver Hardy impersonator Jamie McKenna.
Part 5 - Dwain Smith of the Sons Founding Tent reminisces with Steve and evaluates convention bids. Brad Farrell, co-creator of the information Laurel and Hardy website Wax Apple, talks about meeting Jacqueline White who starred in "Air Raid Wardens", and asks Steve to recount his infamous fire-catching incident. Next, Steve apologizes to the gentleman from Germany who he accidentally doused with water. Stan Laurel impressionist Dennis Moriarty talks about the Oliver Hardy Festival in Harlem, Georgia, and recalls having Jean Darling sing for him. Dennis concludes with a detailed account of Ollie's early film days.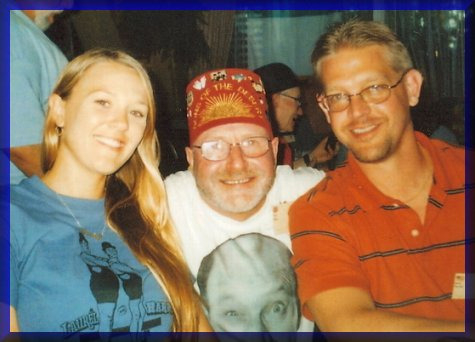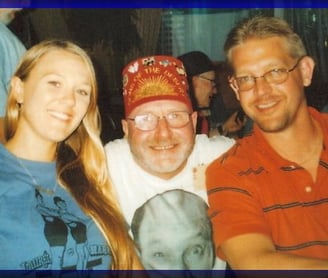 Stan Laurel's great grand daughter Cassidy, John Bogie and Brad Farrell
Part 6 - Convention guest of honor Jean Darling remembers how the Our Gang kids did their schoolwork on the Hal Roach lot and comments on her pin sticking role in 1928's "Barnum and Ringling, Inc." Jean also reveals the story behind her meeting with famous horror star Bela Lugosi and tells listeners how to order her new book.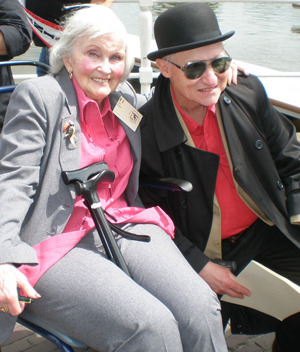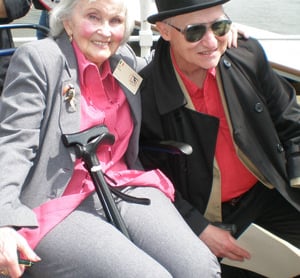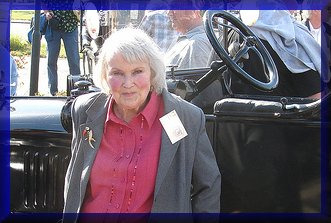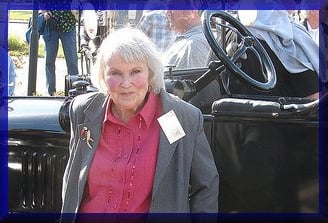 Jean Darling with The Nutty Nut News Networks very own Steve Wichrowski
Part 7 - Dennis Reece of Florida's Boobs in the Woods Tent talks about long-time Grand Sheik Ron Young and bands at the 2008 Convention. Dave Dearle of the UK's Saps at Sea Tent describes seeing Stan and Ollie live onstage in 1952. Rene Riva sings an impressive and lively rendition of the theme from the film "Fra Diavolo".
Part 8 - Russell Clay of the UK's Saps at Sea Tent discusses his tent's meetings and a member's encounter with L&H in 1952. Steve talks with one of the convention's organizers and then conducts a humorous interview with Laurel and Hardy impressionists Jamie McKenna and Bill Leavy. The convention interviews conclude with Irene Velasquez of Sacramento's Another Fine Mess Tent which won the bid to host the Sons 2010 Convention. Irene provides information on planned activities for the convention and gives listeners the tent's website address.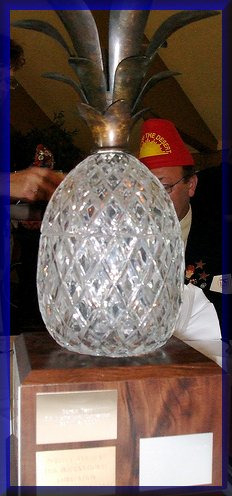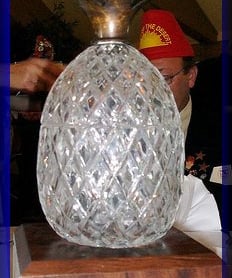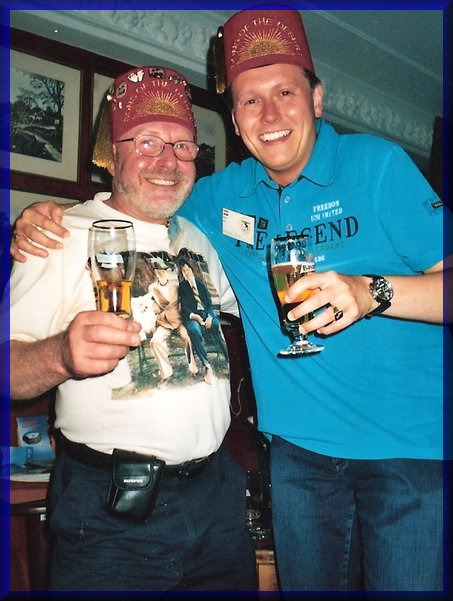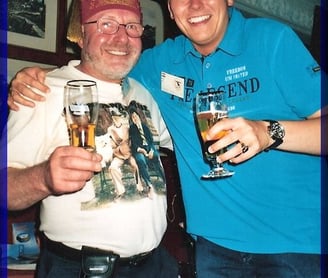 The much missed John Bogie to whom this audio is dedicated with good friend and fellow Son Rene Riva