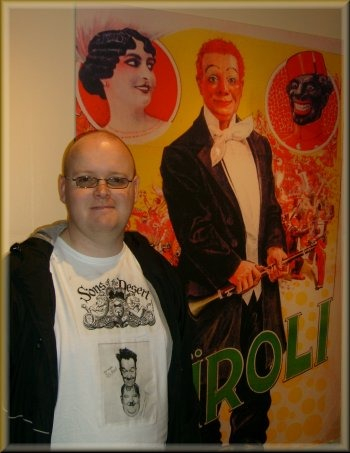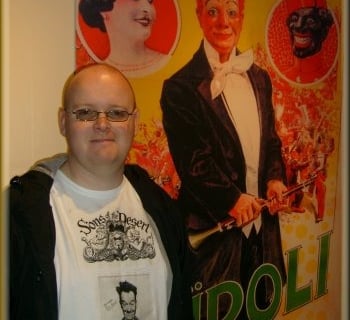 Dean McKeown is a lifelong fan of Laurel and Hardy and their many co-stars and has accumulated a large collection of memorabilia relating to Stan, Ollie, their co-stars and Hal Roach Studios.
Educated at Glasgow's University of Strathclyde, gaining an Honour Degree in Human Resource Management and Social Policy, he is now self employed.
"Ever since I can remember I have been a fan of Laurel and Hardy. My first memory is of watching Stan and Ollie in Swiss Miss, specifically the piano scene on the rope bridge and I think I must have been around three or four at the time as I hadn't yet started school. This was in the early 1980s when the BBC screened Laurel and Hardy films most mornings. I just thank my lucky stars that from an early age I was exposed to Stan and Ollie. As I grew so to did my love of The Boys as did my admiration of their supporting actors and actresses especially James Finlayson and Charlie Hall. It is a great honour for me to be able to write this book about Charlie and help shed some light on the life and work of this often overlooked comedy genius."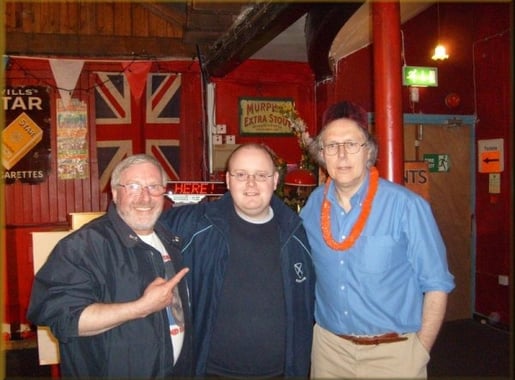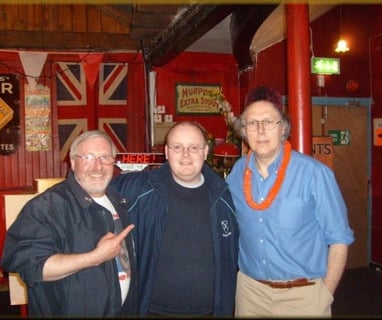 Further information about The Charlie Hall Picture Archive
In the late summer of 2008 Charlie Hall's personal picture albums came up for auction in England. The accompanying description was this:
Achive of photos and an album relating to character actor Charlie Hall, circa 1920s/30s, including a group of fifty-four gelatine silver print photo publicity stills and related, the majority relating to Charlie Hall and his roles in various films of the silent and early talkies era, many relating to Laurel and Hardy films, including those identified as 'They Go Boom', 'Men O' War', 'Busy Bodies', 'Pick 'Em Young', 'Dad's Day', 'Love Overnight', one with a Stax wet stamp, 'Hopping Off', one with Buster Keaton in College, plus a professional photo of Laurel and Hardy in costume but without make up, smiling with Charlie Hall's mother squeezed between them, handbag on lap, a few with typed captions or manuscript notes to versos, including a few by Charlie Hall, some occasional soiling and creasing and a few with small corner tears, approx. 20 x 25 cm, and similar, together with a group of approx. 150 black and white snap shots, of which approx. 120 have printed borders and are corner mounted or tipped-onto fifteen leaves, seemingly being a recording of a visit to Hollywood by Charlie Hall's mum, circa 1936, many of the photos captioned in white to mounts by Charlie Hall and some with ink captions to versos, images include one of Hall's mother with Stan Laurel's parents, one on Stan Laurel's boat, a picture of the filming of Buster Keaton's movie mentioned above, numerous pictures of Hall's mother standing in front of famous film studios including Roach's, Fox, RKO, Universal, Warner Brothers, Paramount, MGM, Charlie Chaplin Studios, Mary Pickford's home, etc., plus pictures of Charlie Hall's house, Nevada, Mexico, etc., images approx. 5.5 x 8 cm, plus a slip of paper with autographs of Laurel & Hardy in thick black pen, the paper measuring 7 x 9.5 cm, the whole collection arranged in poly sleeves into modern ring binders. Charlie Hall (1899-1959) was a movie actor from Birmingham, England. His main trade was carpentry, but having travelled to America and started work as a stage-hand, he became an actor. He is best remembered as a comic foil for Laurel and Hardy, appearing in nearly fifty of their films, and affectionately known by the comedy duo as their 'Little Nemesis'. He remained in Hollywood until his death in 1959.
When purchasing the archive I had no intention or desire to publish a book relating to it, but upon opening Charlie's archive for the first time I knew its contents had to be shared and not hidden away in a private collection like so much other material. So little has been written about Charlie and now I have the opportunity to help remedy that by using Charlie's own work as a guide to help share his history. Anyone who has ever written a book will know that one of the most daunting things an author faces is having a blank piece of paper laid out before them. This was slightly different for me as Charlie has provided most of the material for this book. My task has largely been to expand on what Charlie kept in his picture archive, provide narrative and present it for fellow fans and Sons of the Desert to enjoy. I have also been able to add to Charlie's list of film credits as he kept stills and images from films he has not, until now, been credited for.
Charlie left a legacy and a story through these pictures and now for the first time his personal archive will be presented in full using, where possible, Charlie's own words. The Charlie Hall Picture Archive offers a rare glimpse into Charlie's professional and private life. My only hope is that you as the reader will get as much enjoyment from this book as I have had compiling it.
The Three Wise Men- Larry, Curley and Moe! The late and much missed John Bogie, Dean McKeown and Willie McIntyre having a laugh in Glasgow's Britannia Panopticon Music Hall. Three minds without a single thought!