This filmography will be incomplete due to Charlie making many uncredited appearances so please get in touch with any others you know of.

The Janitor (1921)

Mother's Joy (1923)

Smithy (1924)
The Cowboy Sheik (1924)
Postage Due (1924)
Zeb vs. Paprika (1924)
Big Moments from Little Pictures (1924)
Near Dublin (1924)
Going to Congress (1924)
A Ten Minute Egg (1924)
Battling Orioles (1924)

Big Red Riding Hood (1925)
Isn't Life Terrible? (1925)
Madame Sans Jane (1925)
Unfriendly Enemies (1925)

Good Cheer (1926)
Buried Treasure (1926)
Monkey Business (1926)
Ukulele Sheiks (1926)
Baby Clothes (1926)
Mighty Like a Moose (1926)
Thundering Fleas (1926)
The Merry Widower (1926)
Bromo and Juliet (1926)
The Cruise of the Jasper B (1926)
Madame Sans Jane (1926)
*Madame Mystery (1926)
Are Brunettes Safe? (1927)
Seeing the World (1927)
Forgotten Sweeties (1927)
Love 'Em and Weep (1927)
Fluttering Hearts (1927)
With Love and Hisses (1927)
College (1927)
Sugar Daddies (1927)
The Second 100 Years (1927)
Call of the Cuckoos (1927)
The Battle of the Century (1927)
Playin' Hookey (1928)
Leave 'Em Laughing (1928)
Crooks Can't Win (1928)
You're Darn Tootin' (1928)
Should Married Men Go Home? (1928)
Captain Swagger (1928)
Two Tars (1928)
Love Over Night (1928)
Must We Marry? (1928) aka One Embarrassing Night
Feed 'Em and Weep (1928)
The Butter and Egg Man (1928)
Lady Be Good (1928)

A Pair of Tights (1929)
Wrong Again (1929)
That's My Wife (1929)
Big Business (1929)
Movie Night (1929)
Double Whoopee (1929)
Berth Marks (1929)
Little Mother (1929)
Leaping Love (1929)
Men O' War (1929)
Dad's Day (1929)
Boxing Gloves (1929)
They Go Boom! (1929)
Why Bring That Up? (1929)
Bacon Grabbers (1929)
The Hoose-Gow (1929)
Skirt Shy (1929)
Angora Love (1929)

Une nuit extravagante (1930)
Tiembla y Titubea (1930)
La Vida nocturna (1930)
Noche de duendes (1930)
The Real McCoy (1930)
Blotto (1930)
The Fighting Parson (1930)
Below Zero (1930)
Pick 'Em Young (1930)
Bear Shooters (1930)
Fifty Million Husbands (1930)
Fast Work (1930)
Let's Go Native (1930)
Pups Is Pups (1930)
Dollar Dizzy (1930)
Only Saps Work (1930)

Les Carottiers (1931)
Be Big! (1931)
The Pip from Pittsburg (1931) aka The Pip from Pittsburgh
Laughing Gravy (1931)
Los Calaveras (1931)
Rough Seas (1931)
Politiquerías (1931)
Air-Tight (1931) aka The Boy Friends: Air-Tight
Let's Do Things (1931)
Sweepstakes (1931)
Lemon Meringue (1931)
The Panic Is On (1931)
Pardon Us (1931) aka Gaol Birds, aka Jailbirds
Skip the Maloo! (1931)
Come Clean (1931)
The Pajama Party (1931)
Mama Loves Papa (1931) aka The Boy Friends: Mama Loves Papa
Scratch-As-Catch-Can (1931) aka Broadway Headliners: Scratch-As-Catch-Can
What a Bozo! (1931)
Bad Company (1931)
War Mamas (1931)
The Kick-Off! (1931) aka The Boy Friends: The Kick-Off!
Beau Hunks (1931) aka Beau Chumps
On the Loose (1931)
Delicious (1931)
War Mammas (1931)

Just a Pain in the Parlor (1932)
Seal Skins (1932)
Bon Voyage (1932)
Law and Order (1932) aka Guns A'Blazing
Any Old Port! (1932)
The Music Box (1932)
Strictly Unreliable (1932)
Too Many Women (1932) aka The Boy Friends: Too Many Women
Wild Babies (1932) aka The Boy Friends: Wild Babies
What Price Hollywood? (1932)
Million Dollar Legs (1932)
The Golf Chump (1932)
Show Business (1932)
Young Ironsides (1932)
Hold 'Em Jail (1932)
Pack Up Your Troubles (1932)
The Soilers (1932)
Taxi for Two (1932)
Sneak Easily (1932)
Mr. Bride (1932)
Cynara (1932) aka I Was Faithful
The Soilers (1932)

Bring 'Em Back a Wife (1933)
Fallen Arches (1933)
Twice Two (1933)
Maids a la Mode (1933)
Nature in the Wrong (1933) aka Tarzan in the Wrong
Taxi Barons (1933)
Me and My Pal (1933)
His Silent Racket (1933)
Diplomaniacs (1933)
One Track Minds (1933)
The Druggist's Dilemma (1933)
The Midnight Patrol (1933)
Kickin' the Crown Around (1933)
Morning Glory (1933)
Flirting in the Park (1933)
The Masquerader (1933)
Beauty and the Bus (1933)
Rhapsody in Brew (1933)
Busy Bodies (1933)
Fits in a Fiddle (1933)
What Fur (1933)
Keg o' My Heart (1933)
Backs to Nature (1933)
Luncheon at Twelve (1933)
Hold Your Temper (1933)
Air Fright (1933)
Sons of the Desert (1933) aka Fraternally Yours

Babes in the Goods (1934)
Love on a Ladder (1934)
Hi'-Neighbor! (1934)
Soup and Fish (1934)
Apples to You! (1934)
I'll Take Vanilla (1934)
Maid in Hollywood (1934)
Movie Daze (1934)
Music in Your Hair (1934)
Another Wild Idea (1934)
Cockeyed Cavaliers (1934)
It Happened One Day (1934)
Call It Luck (1934)
Derby Decade (1934)
Them Thar Hills (1934)
One Horse Farmers (1934)
Mike Fright (1934)
Something Simple (1934)
Opened by Mistake (1934)
The Gay Divorcee (1934) aka The Gay Divorce
Kentucky Kernels (1934) aka Triple Trouble
Kid Millions (1934)
The Live Ghost (1934)
Babes in Toyland (1934) aka Laurel and Hardy in Toyland, aka March of the Wooden Soldiers, aka Revenge Is Sweet, aka Wooden Soldiers, aka Toyland

Tit for Tat (1935)
Treasure Blues (1935)
Okay Toots! (1935)
Beginner's Luck (1935)
Sing, Sister, Sing (1935)
Poker at Eight (1935)
Thicker Than Water (1935)
Southern Exposure (1935)
Teacher's Beau (1935)
Bonnie Scotland (1935) aka Heroes of the Regiment
Top Hat (1935)
Twin Triplets (1935)
Annie Oakley (1935)
Hot Money (1935)

The Pinch Singer (1936)
All-American Toothache (1936)
The Bohemian Girl (1936)
Neighborhood House (1936)
Kelly the Second (1936) aka Irish Washerwoman
Swing Time (1936)
Our Relations (1936) aka Double Trouble, aka Sailors' Downfall

Shall We Dance (1937)
Pick a Star (1937) aka Movie Struck
Riding on Air (1937) aka All Is Confusion

Hey! Hey! USA (1938)

Five Came Back (1939)
Man About Town (1939)
Bachelor Mother (1939)

Mexican Spitfire (1940)
Vigil in the Night (1940)
A Chump at Oxford (1940)
Primrose Path (1940)
Curtain Call (1940)
Saps at Sea (1940)
You Can't Fool Your Wife (1940)
Millionaires in Prison (1940)
Trailer Tragedy (1940)
Mexican Spitfire Out West (1940)
One Night in the Tropics (1940)
Drafted in the Depot (1940)
They Met in Argentina (1941)
A Polo Phony (1941)
An Apple in His Eye (1941)
San Antonio Rose (1941)
Father Steps Out (1941)
I'll Fix It (1941)
Top Sergeant Mulligan (1941)
Niagara Falls (1941)
A Quiet Fourth (1941)
Hellzapoppin' (1941)

Man from Headquarters (1942)
Sing Your Worries Away (1942)
Yokel Boy (1942) aka Hitting the Headlines
Framing Father (1942)
The Falcon Takes Over (1942)
The Big Street (1942)
Two for the Money (1942)
Police Bullets (1942)
Criminal Investigator (1942)
Rough on Rents (1942)
Seven Days' Leave (1942)

Forever and a Day (1943) aka The Changing World
The Ape Man (1943) aka Lock Your Doors
Gem Jams (1943)
Honeymoon Lodge (1943)
Shot in the Escape (1943)
Holy Matrimony (1943)
So's Your Uncle (1943)
Who's Hugh? (1943)

The Lodger (1944)
Weekend Pass (1944)
Love Your Landlord (1944)
Radio Rampage (1944)
Girls! Girls! Girls! (1944)
The Canterville Ghost (1944)
In Society (1944) aka Abbott and Costello in Society
Hi, Beautiful (1944) aka Pass to Romance

She Gets Her Man (1945)
Her Lucky Night (1945)
On Stage Everybody (1945)
Radio Stars on Parade (1945)
Confidential Agent (1945)
The Crimson Canary (1945)

Without Reservations (1946) aka Thanks God, I'll Take It from Here
Dressed to Kill (1946) aka Sherlock Holmes and the Secret Code, aka Sherlock Holmes in Dressed to Kill
Wall Street Blues (1946)
Sister Kenny (1946)
Abie's Irish Rose (1946)

How to Clean House (1948)
Home Canning (1948)

The Milkman (1950)
Spooky Wooky (1950)

Limelight (1952)
Androcles and the Lion (1952) aka Bernard Shaw's Androcles and the Lion

The Abbott and Costello Show (1 episode, 1953) TV episode
Rogue's March (1953)

Illegal (1955)

Alfred Hitchcock Presents (1 episode, 1956) TV episode
Cheyenne (1 episode, 1956) Quicksand, TV episode
So You Want to Play the Piano (1956)
Charlie Hall was born in Birmingham, England. Despite three books little is known about Charlie's early childhood. He left school at age fifteen and followed his father's footsteps by becoming a carpenter. As well as working a carpenter Charlie supplemented his income by appearing in theatres and clubs around Birmingham and the North of England in comedy sketches and vaudeville plays. The acting bug had bitten this young man and when Charlie left England for America in 1920 he took this bug with him.
After initially settling in Newark, New Jersey, where his sister was living, Charlie soon moved to Hollywood when an increasing number of film studios began to congregate in the area.
Charlie credits a chance meeting with Bobby Dunn as securing him his first work as an extra in Hollywood. His first film appearances were for Mack Sennett in the early 1920s. He soon made his way to the Hal Roach Studios where Roach nicknamed him The Little Menace as frequently Charlie standing only at five foot four inches played the role that used to be reserved for 'heavies'.
Throughout his career Charlie appeared alongside such stars as Laurel and Hardy, Buster Keaton, Charley Chase, James Finlayson, Will Rogers, Glenn Tryon, Edgar Kennedy, Billy Gilbert, Frank Faylen, Basil Rathbone, Abbott and Costello, and Charlie Chaplin. He appeared in more than 270 films but sadly was very rarely a top of the bill star, infact more often than not Charlie's parts were uncredited.
In the mid 1950s Charlie's health began to suffer. Troubled with liver problems he all but gave up film work and went back to his roots working as a prop man in the film studios. On December, 7th, 1959 Charlie passed away peacefully at home at 5622 Willow Crest Avenue, North Hollywood with his devoted wife, Wilda, at his side. Charlie's funeral service was held in the Little Church of the Flowers at Forrest Lawn where he is interred in the Memorial Park.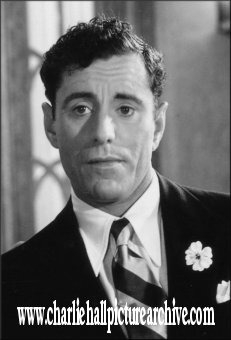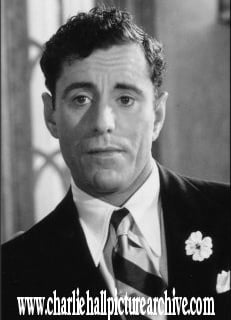 Charlie Hall
August 19th,1899 - December 7th, 1959